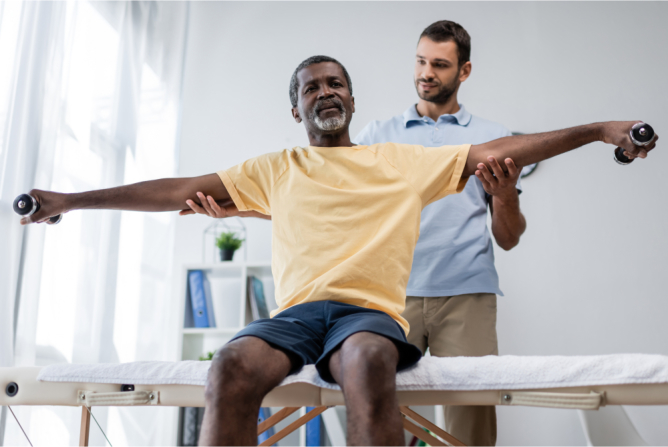 Quality healthcare services care in Arizona is paramount, and understanding the benefits of physical therapy is crucial. Thus, we're dedicated to helping you or your loved one achieve optimal health and well-being.
Let's explore how physical therapy can make a significant difference in managing various common conditions:
Arthritis
Arthritis, a common ailment, can lead to joint pain and stiffness. Our skilled physical therapists employ tailored exercises and techniques to alleviate discomfort and improve joint mobility.
Post-Operative Rehabilitation
Recovering from surgery requires expert guidance. Our team specializes in post-operative care, focusing on regaining strength, flexibility, and functionality for a smoother recovery.
Stroke Recovery
Regaining mobility after a stroke is a journey that requires patience and expertise. Our skilled nursing team collaborates closely with our physical therapists to develop personalized plans to facilitate recovery.
Orthopedic Injuries
From fractures to sports injuries, our physical therapy programs are designed to aid in the healing process. We work with you to rebuild strength and stability, allowing you to get back to your daily activities.
Neurological Disorders
Conditions like Parkinson's disease or multiple sclerosis can present unique challenges. Our specialized care focuses on enhancing mobility, balance, and coordination, promoting a higher quality of life.
Our team of dedicated professionals is committed to your well-being, offering tailored solutions for a wide range of conditions. Whether you're seeking restorative care or specialized physical therapy, we're here to support you on your journey to recovery.
If you or a loved one are in need of home health in Phoenix, Arizona, trust Valley of The Sun Home Healthcare to deliver exceptional care. Contact us today to learn more about how we can help you achieve your health and wellness goals.
Disclaimer
Blogs, content, and other media uploaded online are for informational purposes only. Contents on this website should not be considered medical advice. Readers are strongly encouraged to visit their physician for health-related issues.